The British Institute (TBI) Gading Serpong Tangerang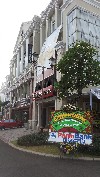 The British Institute (TBI) Gading Serpong Tangerang
Kategori :
Pendidikan, Kursus
Alamat :
Ruko Graha Boulevard B 001, Jl. Graha Boulevard Barat, Gading Serpong
Facebook :
https://www.facebook.com/tbiserpong
Foto Lainnya :
Detail :
The British Institute in Gading Serpong is located in Graha Boulevard Shop-Housing complex, a bustling premium location surrounded by high-end public landmarks such as Bethsaida Hospital and Multimedia Nusantara University (UMN). It takes approximately five minutes from Summarecon Mall Serpong, Giant Supermarket, and Hypermart Supermarket. Our four-storey building is equipped with facilities such as a computer laboratory supporting multimedia features, a library hosting an exciting collection of English books and magazines, and a student-lounge with wifi internet access.
The British Institute adalah pelatihan bahasa penyedia kursus bahasa Inggris untuk publik yaitu dari anak-anak, remaja, sampai dengan dewasa, juga untuk perusahaan sejak tahun 1984 Selama lebih dari 25 tahun. TBI juga menyediakan pelatihan guru bersertifikasi internasional disetujui oleh Universitas Cambridge ESOL Examinations.
Pendekatan TBI adalah "komunikatif" karena tujuan utama adalah untuk berkomunikasi dengan komunitas global melalui media bahasa Inggris dan juga dan pendekatan task-based dalam belajar dan pembelajaran.